"Red" Tharl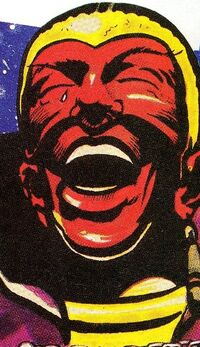 Current alias
"Red" Tharl
Characteristics
Status
Occupation
Freedom fighter
History
The exuberant "Red" Tharl was the leader of the Saturnian rebellion against Vora and the High Lords of Saturnia. Upon meeting Dan Dare and Digby, he assumed that they were spies and forced Dare to duel with him, but accepted Dare as an ally after the Earthman won his respect in the fight. Together, they overthrew Vora.

Powers and abilities
Abilities
Overthrowing despots.
Strength level
Greater than normal human.
Links
Discover and Discuss
Ad blocker interference detected!
Wikia is a free-to-use site that makes money from advertising. We have a modified experience for viewers using ad blockers

Wikia is not accessible if you've made further modifications. Remove the custom ad blocker rule(s) and the page will load as expected.