Aaron A. Aardvark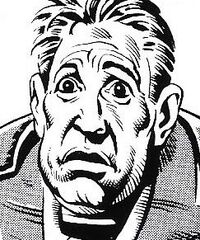 Current alias
Aaron A. Aardvark
Relatives
Megan Taylor (fiancée)
Base of operations
Mega-City One
Characteristics
Unusual features
His name
Status
Origin
Origin
Normal human birth
History
Aaron A. Aardvark, alias Eric Plunket, is a character from the 2000 AD strip Judge Dredd. An unremarkable citizen of Mega-City One, he changed his name to Aaron A. Aardvark in order to be the first person listed in the phone book. This rather odd ambition proved to be his undoing when the insane Chief Judge Cal began executing the citizenry in alphabetical order. Sadly, Judge Dredd's eventual defeat of Cal came too late to save Aaron.

Powers and abilities
Strength level
Human male who gets minimal regular exercise.
Weaknesses
His own ambition.

Notes
Aaron later appeared in a flashback in the Judge Dredd Story in the Judge Dredd Megazine #382. This revealed that he had changed his name in an inventive attempt to impress the family of his fiancée, Megan Taylor (see quotes).

Trivia
Aaron's was the first name in the vid-phone book for sector 1. The last was Zachary Zziiz.
Links
Discover and Discuss
Ad blocker interference detected!
Wikia is a free-to-use site that makes money from advertising. We have a modified experience for viewers using ad blockers

Wikia is not accessible if you've made further modifications. Remove the custom ad blocker rule(s) and the page will load as expected.