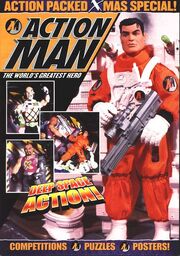 Action Man
was a British comic published by
Panini UK
based on the popular, long-running line of toys. It lasted for a total of 138 issues between 1996 (when it was launched as part of Panini's licensed Marvel UK line, the original
Marvel UK
having previously published
Action Force
) and 18th January 2006. The comic, originally published monthly and later every three weeks, centred around the adventures of military superhero
Action Man
and his ongoing battles with his arch foe
Dr. X
and his Council of Doom. The title, whose final editor was
Ed Caruana
, was eventually cancelled and replaced by
Action Man A.T.O.M
, a series about a group of teenage adventures, based on the A.T.O.M toy line which had replaced Hasbro's Action Man toy range.
Other publishers
Additionally, Action Man Annuals based on the original Action Man toy line were published by Fleetway from 1979-1985 and an Action Man Annual based on the revived line was published by Pedigree in 1995 (dated 1996).
A previous Action Man comic was published by Tower Comics in 1995.
See also: Action Man (Comics).
Ad blocker interference detected!
Wikia is a free-to-use site that makes money from advertising. We have a modified experience for viewers using ad blockers

Wikia is not accessible if you've made further modifications. Remove the custom ad blocker rule(s) and the page will load as expected.