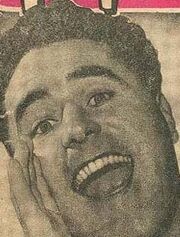 Alfred 'Alf' Wallace was the managing editor of
Odhams
in the late 1960s and one of the three man team (the others being
Bob Bartholomew
and
Albert Cosser
) responsible for the
Odhams Power Comics
line which included
Smash!
,
Pow!
,
Wham!
,
Fantastic
and
Terrific
. He would later assist British Marvel due to his knowledge of the Marvel series, and often provided character specific replies to questions the UK editors may not otherwise have been able to answer!
Ad blocker interference detected!
Wikia is a free-to-use site that makes money from advertising. We have a modified experience for viewers using ad blockers

Wikia is not accessible if you've made further modifications. Remove the custom ad blocker rule(s) and the page will load as expected.