Ally Sloper's Half Holiday (so called because it generally came out on, or at least was dated for, a Saturday, which was considered a half day off work) debuted on Friday 3rd May 1884. Ally Sloper himself was already the most famous comic character in Britain as one of the stars of satirical magazine Judy (an imitator of Punch) and had been for 17 years at this point, featuring in his own Annuals and a couple of other publications including what were effectively Summer specials before being awarded his own title by publisher Gilbert Dalziell. Sloper's adventures were drawn by W.G Baxter at first, and later by W.F Thomas. The title lasted until 9th September 1916, although it underwent a title change with issue #1571 (6th June 1914, becoming 'The Sloperies'). It ran 1679 issues in total before merging with London society. A second series ran 23 issues from 5th November 1922-14th April 1923 (when it became 'Half Holiday', running a further 24 issues under that title until 29th September 1923 before joing London Life) and there was a one-off publication of the same title in 1949.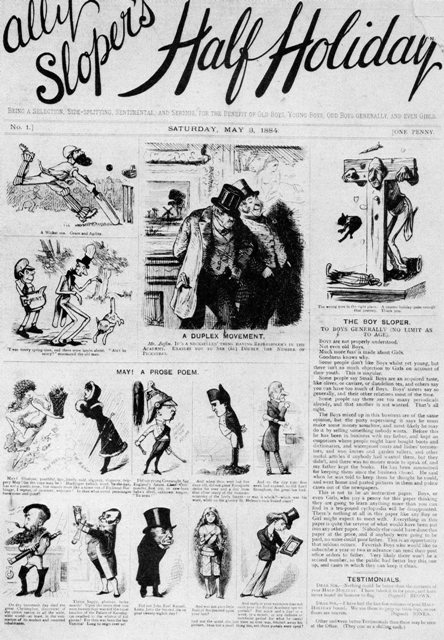 Ad blocker interference detected!
Wikia is a free-to-use site that makes money from advertising. We have a modified experience for viewers using ad blockers

Wikia is not accessible if you've made further modifications. Remove the custom ad blocker rule(s) and the page will load as expected.