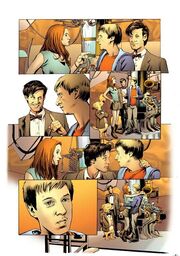 Andrew Currie is a British comics artist who began his career working for ACME Press and Harrier Comics and has since worked extensively for American publishers. In the UK he has drawn:
His work for American publishers includes:
Work for America's Best Comics
Work for DC Comics
Doctor Who for IDW
Captain America and Nick Fury, Iron Man, Wonder Man, The Ultimates, New Mutants, Avengers West Coast and The Punisher for Marvel
Two Star Trek limited series for Wildstorm Comics
Ad blocker interference detected!
Wikia is a free-to-use site that makes money from advertising. We have a modified experience for viewers using ad blockers

Wikia is not accessible if you've made further modifications. Remove the custom ad blocker rule(s) and the page will load as expected.