Jimmy Brannigan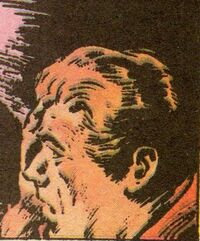 Real name
Angus McCraggan
Current alias
Jimmy Brannigan
Base of operations
Scotland
Characteristics
Status
History
Angus McCraggan (sometimes caled 'Jimmy Brannigan' in reprints) was the assistant and hired muscle of paranormal investigator Cursitor Doom. He appeared to be able at times to communicate telepathically with his boss.

Notes
Angus was renamed Jimmy Brannigan when the Cursitor Doom stories were reprinted as 'Amadeus Wolf', and also adopted the identity of Curtis Bronson, Ghost Hunter in a 1974 reprint in the Buster Book of Spooky Stories. On that occasion, he was partly redrawn with black hair and a moustache.
Links
Discover and Discuss
Ad blocker interference detected!
Wikia is a free-to-use site that makes money from advertising. We have a modified experience for viewers using ad blockers

Wikia is not accessible if you've made further modifications. Remove the custom ad blocker rule(s) and the page will load as expected.