Annie Wong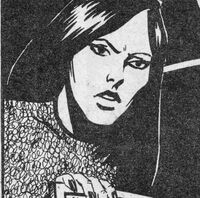 Base of operations
Hong Kong
Characteristics
Status
Occupation
S.H.I.E.L.D. Agent
Origin
Origin
Normal human birth
First appearance
Last appearance
History
Annie Wong studied Shaolin Temple boxing from the age of three. She eventually became an action movie star in Hong Kong, but retired from the industry after accidentally killing a fellow artiste. Joing the global intelligence agency S.H.I.E.L.D. as a martial arts instructor, she later assisted Nick Fury against the SEPT and its leader, the Yellow Claw.

Powers and abilities
Abilities
Pugilism.
Strength level
Human female who gets regular exercise.
Links
Discover and Discuss
Ad blocker interference detected!
Wikia is a free-to-use site that makes money from advertising. We have a modified experience for viewers using ad blockers

Wikia is not accessible if you've made further modifications. Remove the custom ad blocker rule(s) and the page will load as expected.