Anastasia Digby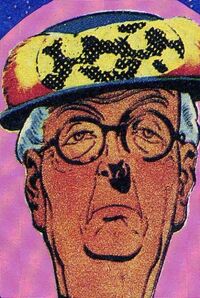 Real name
Anastasia Digby
Characteristics
History
The fearsome but kind hearted Aunt Anastasia was the favourite aunt of Albert Digby, batman to Colonel Dan Dare, and was something of a favourite of the Colonel's, too. In fact, Dare actually named his spaceship, the Anastasia, after her.

Paraphernalia
Weapons
Wields a mean umbrella.

Notes
Versions of Aunt Anastasia appeared in the Dan Dare series' in both Eagle in the 1950s/60s and its successor title, the Eagle of the 1980s/90s.
Links
Discover and Discuss
Ad blocker interference detected!
Wikia is a free-to-use site that makes money from advertising. We have a modified experience for viewers using ad blockers

Wikia is not accessible if you've made further modifications. Remove the custom ad blocker rule(s) and the page will load as expected.