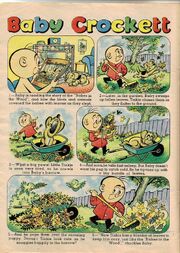 Although hardly as universally-known as the more famous
Beezer
counterpart,
Baby Crockett
did enjoy a long run within the glossier pages of
Bimbo
, in wholly separate adventures drawn up by the same artist,
Bill Ritchie
, who somewhat unusually turned out two pages of this strip weekly, both aimed at quite different readerships.
The Bimbo version is most noticeable for its wholesome innocence, as the diminutive Baby explores the world around him from his own toddler perspective. (I say 'toddler', but he can take to his heels when the need arises!) The main difference is in the total absence of word balloons in the juvenile version, which is replaced by the customary Bimbo technique of having captions along the bottom of the frames. All other aspects (the characters of Baby's parents, his little friends, etc) are identical in both versions, although the deliberate baby-talk of the Beezer version (Baby refers to himself as 'Me's', his Mum is 'Mumsie', etc) is abandoned altogether in the tiny-tots version, presumably to encourage very young readers to read properly.
Ritchies' disarmingly simple-seeming work often depicted elaborate vistas when least expected, and his wholly unique style did much to embellish many D.C. Thomson publications over his long career. He was a master of creating atmosphere as well as producing effective cartoonery on an economic style. as this strip very ably demonstrates.
For the very different Beezer version of Baby Crockett, see the separate entry on this character.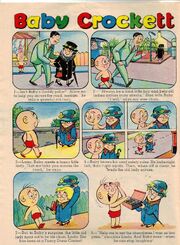 Ad blocker interference detected!
Wikia is a free-to-use site that makes money from advertising. We have a modified experience for viewers using ad blockers

Wikia is not accessible if you've made further modifications. Remove the custom ad blocker rule(s) and the page will load as expected.