Baby Grumpling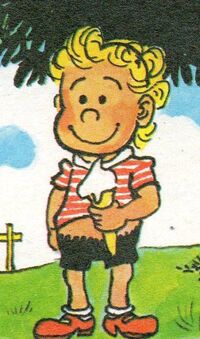 Current alias
Baby Grumpling
Base of operations
Croynge
Characteristics
Status
Origin
History
Baby Grumpling (real first name unknown) is a toddler with a fearsome intellect which nonetheless has a tendency to let him down when trying to grasp some of the simpler concepts in life. He believes that school (which he is not old enough to go to) is a prison in which his sister Maisie and her friends are incarcerated every day and then let out of at night. He also believes that worms are part of a healthy, nutritious diet (in fact, this may well be true, but only if you really haven't got anything else) and that if he digs deep enough, he'll reach Australia. He digs a lot of holes, when he isn't embarking on some improbable business venture or other (usually worm related; he invented the wormburger for instance, though nobody but Wellington ever bought one, and Wellington didn't initially believe it had real worms in it).

Notes
Baby Grumpling's unwilling confidant is the New Baby; it's unclear if this most junior Grumpling child has any other name, or even what sex it is.
Links
Discover and Discuss
Ad blocker interference detected!
Wikia is a free-to-use site that makes money from advertising. We have a modified experience for viewers using ad blockers

Wikia is not accessible if you've made further modifications. Remove the custom ad blocker rule(s) and the page will load as expected.