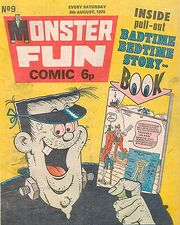 The 
BADTIME BEDTIME STORIES 
are referred by some as an absolute highlight within 
Monster Fun
 and it's true they are high in hilarity-factor, the sheer exuberance of 
Leo Baxendale
's work shining through in every energetic panel. Baxendales' work had by this point evolved [or 'devolved' , depending on your viewpoint] into a much more simplistic, less detailed concern than his work of the 60s, either for 
D.C. Thomson
 or 
Odhams
 comics.......possibly as a result to arthiritis develpoed as a result of years of painstaking detail.
For all that, Baxendales' work in this period is nothing short of phenomenally funny, completely unrestrained and uninhibited, as the BADTIME offerings serve up nonstop stream-of-conciousness anarchy, the stories taking many unexpected twists and turns, with much welcome self-reference [the artist was often depicted drawing the story midway through, some frames were left blank as a result of props  being damaged, etc] . Notable also for a deliciously macabre sprinkling of black humour throughout, which must surely have appealed to many young readers.......this approach was heightened further with themed diversions drawn in the margins, and if  these sidelines were groanworthily corny at times, the sheer unpretentiousness of this approach was a winning combination.The lettering often approximated a Letraset-like 'tacked-on-afterwards' ambience, but somehow all this simply contributed to the delightful chaos. FORMAT: the BADTIME BOOKS were designed as a pull-out section within Monster Funs' centre pages, making up eight 'mini-pages' out of four standard-sized ones. [half of these were in colour, adding to the sense of 'anything goes']  The presentation was such that continuity was confusing unless the reader took the time to pull out and assemble the DIY booklets, --and although this added to the creativity for the reader, the net result of this is that many collectors decades down the road have their work cut out trying to locate complete copies of MONSTER FUN, with much enquiries from prospective buyers on e-bay as to whether the items for sale contain the BEDTIMES or not. Often the pull-out sections still exist seperately, though obviously many surviving issues of the comic are sans the pullout sections. The entire BEDTIMES are available for viewing for the commited, however......
The opening BADTIME BEDTIME tale was JACK the Nipper's Schooldays, a yarn of an overbearing, bullying teacher who gets his comeuppance courtesy of patent shrinking powder, and teach is last seen fleeing from stomping kids' feet, which approach him with great menace.
Ad blocker interference detected!
Wikia is a free-to-use site that makes money from advertising. We have a modified experience for viewers using ad blockers

Wikia is not accessible if you've made further modifications. Remove the custom ad blocker rule(s) and the page will load as expected.