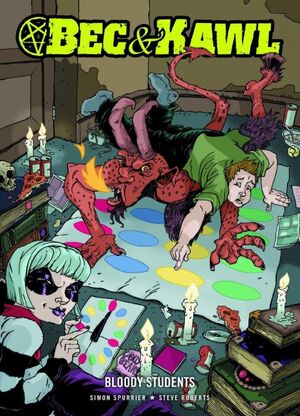 In the words of 
Tharg
(or a mouthpiece thereof): "THEY'RE HERE TO SAVE THE WORLD... KINDA!
Becky Miller and Jarrod Kawl are a pair of students sharing a flat in the less-than-salubrious Swineboil Apartments. He's a stoner movie geek, she's a power-crazed Goth artist –­ together, they're a magnet for every demonic incursion and ectoplasmic event going. They could be mankind's last hope against the terrors from beyond if they could only get off their arses.
Simon Spurrier (The Simping Detective) is joined by artist Steve Roberts (Sinister Dexter) in this irreverent romp into the world of the occult and the downright weird!"
Bec & Kawl is a series published in the anthology comic 2000 AD between 2002 and 2006. It has also been collected as a trade paperback, Bloody Students (pictured). Together, the incredibly chilled-out art students fended off tooth fairies, alien traffic cones (no, not him) and all sorts of other interesting creatures that they wouldn't have had the time to get involved with if they'd been studying a science subject. Still, it's nice to know they spent their government loans and grants on defence against eldritch abominations, as well as pizza and cheap alcohol.
Ad blocker interference detected!
Wikia is a free-to-use site that makes money from advertising. We have a modified experience for viewers using ad blockers

Wikia is not accessible if you've made further modifications. Remove the custom ad blocker rule(s) and the page will load as expected.