Big Eddie Little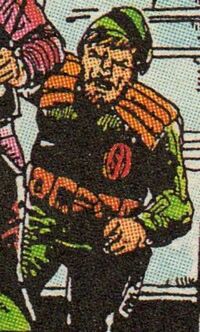 Current alias
Big Eddie Little
Aliases
Low blow specialist
Characteristics
Unusual features
Eddie is a dwarf
Status
Origin
Origin
Mutated by strontium-90.
History
Big Eddie, a mutant dwarf with a violent temper, was one of the Search/Destroy Agents (or Strontium Dogs) who aided Johnny Alpha when his villainous father Nelson Bunker Kreelman took control of the Agency as part of a revenge plot against his son. He was shot dead while attempting to reach Kreelman.

Powers and abilities
Abilities
Proficient bounty hunter.
Strength level
Peak human.

Paraphernalia
Weapons
Yes.
Links
Discover and Discuss
Ad blocker interference detected!
Wikia is a free-to-use site that makes money from advertising. We have a modified experience for viewers using ad blockers

Wikia is not accessible if you've made further modifications. Remove the custom ad blocker rule(s) and the page will load as expected.