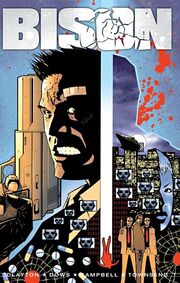 "JACK BISON IS THE KIND OF GUY THEY DON'T MAKE ANYMORE. A hard-boiled, take-no-prisoners cop out to avenge the death of his wife at the hands of crime boss Enrique Esposito. But when he's fired from his beloved force, he needs a new angle of attack — and the body-swapping technology of Internet 4 has the answers. Now, Bison plans to swap with Esposito's daughter, Charisma; but she has her own plans for Jack Bison's body..."
Bison was a comic strip published in 2000 AD progs 1301 to 1309, in 2002. It was written by Colin Clayton and Chris Dows, and drawn by Laurence Campbell and Lee Townsend. The trade paperback (pictured) can be purchased from 2000 AD's website, and there is a synopsis of the plot on this review site.
Ad blocker interference detected!
Wikia is a free-to-use site that makes money from advertising. We have a modified experience for viewers using ad blockers

Wikia is not accessible if you've made further modifications. Remove the custom ad blocker rule(s) and the page will load as expected.