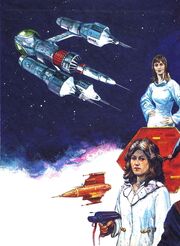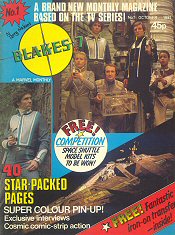 Based on the popular science fiction TV series,
Blake's 7: A Marvel Monthly
was published by
Marvel UK
from October 1981-August 1983, a grand total of 23 issues (plus Summer Specials in 1981 and 1982 and a Winter Special in 1982). It was a black & white magazine in the same style as
Doctor Who Magazine
, with features on the TV show plus a comic strip featuring the lineup from the fourth and last series. The strip was frequently uncredited, but artists who worked on it included
David Lloyd
,
Steve Dillon
,
Jerry Paris
,
Mick Austin
and
Phil Gascoine
, and writers included
Paul Neary
and
Ken Armstrong
. The magazine-which outlasted the TV series by more than a year and a half, though no mention of the events of the final episode was ever made in the strip-also gave away free posters in the centre pages of each issue, and occasional free gifts including a Blake's 7 sticker. Two further Blake's 7 Specials were published in Summer and Winter 1995.
Additionally, three Blake's 7 Annuals were published by World Distributors, in 1979, 1980 and 1981. All three of these, however, contained exclusively illustrated text stories rather than actual comic strips.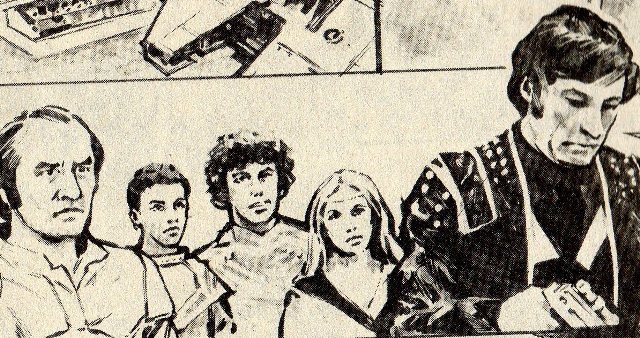 The Blake's 7 Monthly featured the lineup from the fourth series of Blake's 7 on TV, which did not include the character of Roj Blake himself. Consequently, Blake never actually appeared in a Marvel UK publication until 1995. The World Distributors Annuals reflected the lineups of the TV show in the years in which they were published (therefore, in the third annual Roj Blake and Jenna Stannis were replaced by Del Tarrant and Dayna Mellanby) but World evidently did not have the rights to use the likeness of either Stephen Greif or Brian Croucher as the villainous Space Commander Travis (either that, or the artists had no reference material); consequently, when Travis does make an appearance, he resembles neither actor very closely half the time, and has traded his trademark eyepatch for a goatee beard. Similarly, Supreme Commander Servalan has gained long hair and looks nothing like Jacqueline Pearce.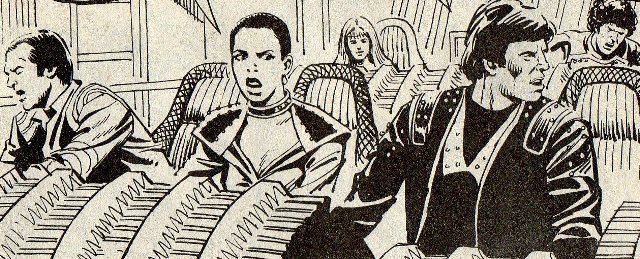 Blake's 7 Gallery
Edit