Blake Edmonds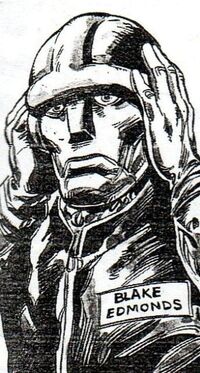 Base of operations
Mobile
Characteristics
Status
Origin
Origin
Mangled in an accident
History
Blake Edmonds was a handsome Formula 1 racing driver until an accident left him hideously disfigured. Devastated at the fact that he now had a face like a piece of Kentucky fried chicken and hiding his deformity under a mask which had an unfortunate habit of slipping off at inconvenient moments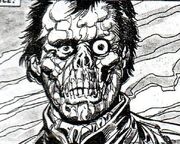 , Blake publicly announced that he would henceforth undertake any stunt offered to him, for big money, so long as there was a fair chance that he wouldn't survive it! Unfortunately for barbecued Blake, his luck then took a turn for the better and he managed to survive a lengthy series of hair-raising adventures without actually wanting to. In the process he became a bit of a hero and even fought a variety of supernatural menaces, including
Dracula
himself!
Powers and abilities
Abilities
Driving cars.
Weaknesses
Vanity.

Notes
Despite his 'Death Wish' (the title of the strip in which he starred), Blake actually outlived both Speed (the title in which he was created) and Tiger (the title with which Speed was merged), ending up in the pages of the revived Eagle. This was probably a source of considerable irritation to him.
Links
Discover and Discuss
Ad blocker interference detected!
Wikia is a free-to-use site that makes money from advertising. We have a modified experience for viewers using ad blockers

Wikia is not accessible if you've made further modifications. Remove the custom ad blocker rule(s) and the page will load as expected.