Aleksy Blazen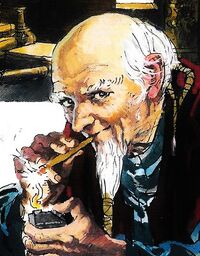 Relatives
Emil Blazen (father, deceased)
Base of operations
Mobile
Characteristics
Status
Origin
History
Blazen is a character in the 2000 AD strip The Order. One of a group of warriors dedicated to protecting medieval Europe from supernatural threats, the eccentric Blazen is the brains of the outfit. He also takes an interesting variety of drugs (including 'coca', which shouldn't even have been known in Europe in 1210 AD), and has a 'familiar' — a transparent bird called Ergo whom only he can see, and who also seems to be his brother. His best friend Schmidt used to keep an eye on him. (And when Schmidt didn't keep an eye on him, Blazen got his kicks by spiking people's drinks with hallucinogenic mushrooms.)
Blazen, Schmidt, Ritterstahl, Iron John and Anna Kohl saved the human race from an invasion of 'wurms' in the early thirteenth century. Unfortunately, Iron John and Schmidt perished in the attempt, but Blazen was apparently still alive some two hundred years later...

Powers and abilities
Abilities
Perfect recall of every word and image he has ever seen; armed combat.
Strength level
Elderly human male.
Weaknesses
His perfect recall is so overwhelming that he needs Ergo to keep him sane.

Paraphernalia
Equipment
His 'zipper', an anachronistic cigarette lighter which is a memento of Schmidt; ergot powder; milk of the fly agaric mushroom; purple nightwort (herbal emetic); ephedra (basically a performance-enhancing drug); coca leaf.
Transportation
Horse.
Weapons
Improvised explosive devices; twin-tube shoot-gunne (inherited from Schmidt).

Notes
Later in the Order's history, when it was based in New Atlantis, Intuitor Browne had a robot bird called E.R.G.O.
Links
Discover and Discuss
Ad blocker interference detected!
Wikia is a free-to-use site that makes money from advertising. We have a modified experience for viewers using ad blockers

Wikia is not accessible if you've made further modifications. Remove the custom ad blocker rule(s) and the page will load as expected.