Boarhillser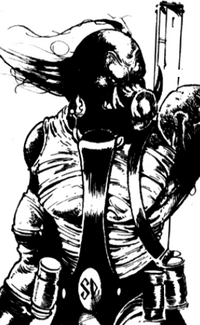 Characteristics
Unusual features
Boar-like face and large claws
Status
Origin
Origin
Mutated by strontium-90
History
Boarhillser was a mutant Strontium Dog. He, Johnny Alpha, Middenface McNulty and Achondro were hired by the distinctly dodgy priest Sagan to help the cleric retrieve some mysterious lost relics.
Boarhillser helped his team through various obstacles on an alien planet, using his sheer brute strength to beat down his enemies. During an assault against Commander Kreeg, who had the artefacts, Boarhillser was hit with a boulder, causing him to bleed out. Knowing he was dying, he asked to confess his sins to Sagan. However, the treacherous priest stabbed him instead.

Powers and abilities
Abilities
Bounty hunting.
Strength level
Superhuman.

Paraphernalia
Weapons
Various guns.
Links
Discover and Discuss
Ad blocker interference detected!
Wikia is a free-to-use site that makes money from advertising. We have a modified experience for viewers using ad blockers

Wikia is not accessible if you've made further modifications. Remove the custom ad blocker rule(s) and the page will load as expected.