Bonjo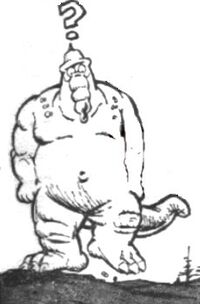 Characteristics
Status
Origin
History
Bonjo was a huge alien idiot who rampaged on Earth, eating everything he encountered.

Powers and abilities
Weaknesses
Stupidity.

Notes
Bonjo appeared in ten single-page strips between 2000 AD progs 41 and 50. He later resurfaced in the one-off story Tharg's Head Revisited in prog 500, and was mentioned in the Damage Report in prog 1977 (see quotes).

Trivia
The original story was reprinted in the 1984 2000 AD Annual.
Links
Discover and Discuss
Ad blocker interference detected!
Wikia is a free-to-use site that makes money from advertising. We have a modified experience for viewers using ad blockers

Wikia is not accessible if you've made further modifications. Remove the custom ad blocker rule(s) and the page will load as expected.