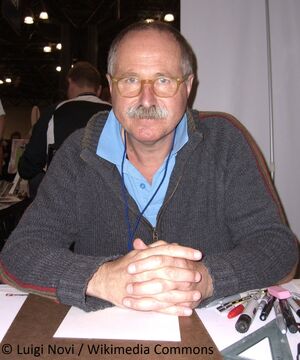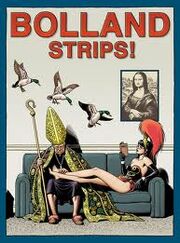 Brian Bolland (born 26th March 1951) is a comic artist best known in Britain for his work on
2000 AD
strips including
Judge Dredd
and
Walter the Wobot
, in particular on classic storylines such as
The Cursed Earth
,
The Day the Law Died
,
The Judge Child Quest
 and
Block Mania
. Fans are indebted to Bolland for the creation of popular characters
Judge Death
, the rest of the
Dark Judges
,
Judge Anderson
and
Judge Hershey
. He drew new covers for the
Eagle Comics
reprint line featuring
2000 AD
characters, and worked on
2000 AD
reprint volumes from
Titan Books
.
In addition to his 2000 AD work, Bolland drew strips for House of Hammer amongst others, as well as the African superhero title Powerman, which was some of his earliest professional work, predating 2000 AD (around the same time, he drew a few strips for DC Thomson). He has also done a considerable amount of advertising work, and created the whimsical strip The Actress and the Bishop, which eventually appeared in the anthology title A1.
Bolland was one of the first British artists to be recruited by America's DC Comics in the early days of what became known as "the British Invasion", which revolutionised the industry in the 1980s. One of his earliest works for DC was a section of the landmark Justice League of America #200 in 1982, though he is better remembered for his one and only monthly title, the twelve issue limited series Camelot 3000, DC's first ever "maxi-series". He also drew the Batman one-shot The Killing Joke, written by Alan Moore, and a Judge Dredd/Batman team-up, also by Moore. In recent years, he has concentrated mainly on providing cover art, most of it for DC Comics, though he does still occasionally draw interior art. 


Ad blocker interference detected!
Wikia is a free-to-use site that makes money from advertising. We have a modified experience for viewers using ad blockers

Wikia is not accessible if you've made further modifications. Remove the custom ad blocker rule(s) and the page will load as expected.