Brotor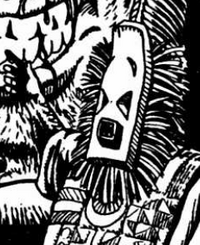 Affiliation
The Ever-Living Ones;
Myrddin
(boss)
Base of operations
Home of the Ever-Living Ones
Characteristics
Unusual features
Wears a bloody big mask
Status
Occupation
Protector of time
Origin
Place of death
Home of the Ever-Living Ones (ironically)
History
Brotor is a character from the 2000 AD strip Sláine. Once a Viking warrior, he was hired by Myrddin to become one of the Ever-Living Ones and protect time. When the Home of the Ever-Living Ones came under Cythron attack, Myrddin called upon the Celtic warrior Sláine to defend him, much to Brotor's disgust.
Later on it was revealed that one of Brotor's colleagues, Cador, was actually the Lord Weird Slough Feg in disguise. Brotor leapt onto the Drune Lord and tried to knock him to the ground, only to get shot point blank in the face by Feg. Myrddin mourned his death afterwards.

Powers and abilities
Abilities
It's never stated, but according to the Sláine D20 game he was the Viking equivalent of Sláine, so perhaps he possessed some kind of Warp Spasm.
Weaknesses
Being shot in the face.
Links
Discover and Discuss