Button Man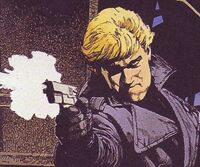 Characteristics
Status
Origin
Origin
Normal human birth
History
Former soldier Harry Exton is the eponymous protagonist of the 2000 AD comic strip Button Man. Exton was a mercenary until the day he became involved in The Game, a contest in which bored millionaires would pit their own hired killers against each other, betting obscene sums on who would live and who would die. Harry quickly rose to the very top of his new profession, but on the day that he decided to quit The Game, he found that it wasn't to be that easy: the only way out was by dying. So Harry decided to fight back instead, safeguarding his own future by wiping out the players and ending The Game...

Powers and abilities
Abilities
Armed combat.
Strength level
Peak human male.

Paraphernalia
Weapons
Yes, quite a lot of them.

Notes
Button Man was originally created for Toxic! but they didn't want it, so 2000 AD snapped it up instead.
The fourth series of Button Man was drawn by Frazer Irving.
Links
Discover and Discuss
Ad blocker interference detected!
Wikia is a free-to-use site that makes money from advertising. We have a modified experience for viewers using ad blockers

Wikia is not accessible if you've made further modifications. Remove the custom ad blocker rule(s) and the page will load as expected.