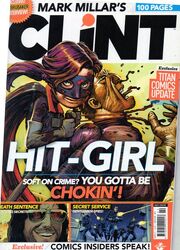 CLiNT
was a bi-monthly comics magazine aimed at older readers launched in September 2010 by
Mark Millar
, an anthology title featuring stories written by Millar and by others including comics fan and media personality
Jonathan Ross
. It was published by
Titan Magazines
, and featured strips including
Hit-Girl
,
Kick Ass 2
,
American Jesus
,
Nemesis
,
Superior
,
Turf
,
Rex Royd
,
Super Crooks
,
The Secret Service
,
Death Sentence
and
Homesick
, a mix of British-originated and American reprint material. The title was officially changed to 
Mark Millar's CLiNT
from August 2012, one issue into volume two. The title
CLiNT
, which is always written in upper-case but with a lower-case "i", is a deliberate comics industry in-joke; traditionally, when comics printing techniques were somewhat less sophisticated than they are now and when it was customary for all text to be upper-case, writers were obliged to avoid the name "Clint" in case the print ran and caused the "L" and the "I" to run together and form a "U" (the word "flick" was avoided for the same reason).
CLiNT
was cancelled in August 2013, with volume two #8 being the last issue.
Ad blocker interference detected!
Wikia is a free-to-use site that makes money from advertising. We have a modified experience for viewers using ad blockers

Wikia is not accessible if you've made further modifications. Remove the custom ad blocker rule(s) and the page will load as expected.