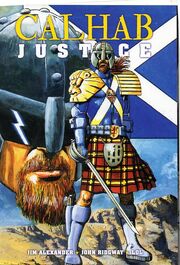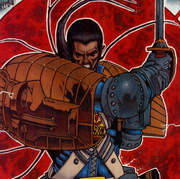 Calhab Justice
wuz a recurrin' strip frae th'
Judge Dredd Megazine
, which started in ishays twae tae thirteen o' volume twae wi' a story written by
Jim Alexander
an' drawn by
John Ridgway
aboot
Judge Ed MacBrayne
an his pallies tryin' tae stop the Whisky clans frae startin' a bluidy revolution in Calhab by stealin' the Stane o' Destiny. Calhab is whit Scotland's called in
the world o' yon scunner Judge Dredd
, ye ken, and in the 22nd century it's the world's maest popular nuclear dumpin' groond, so the natives've prolly got whit ye might call a bit o' a chip on their collective shoulders aboot it!
Anyhoo, MacBrayne sorted the hool thing oot, an' the series returned fer a Hogmanay ane-aff story in ishay eighteen o' the Megazine. The next story, Dounreay, was in ishays thirty-one tae thirty-three (still written by yon Alexander, bit noo drawn by LOL an wi' letters by Annie Parkhouse). Some Sassenach called Judge Dupré, ane o' Brit-Cit's finest, is seconded tae the Calhab force tae help stop a nuclear meltdoon...'ceptin he turns oot tae be an imposter, a terr'ist nae less!
The series came back agin in ishay forty-four wi' a ane-aff story called Casualty which led intae a story called Unfinished Business in forty-five tae forty-nine, then a few mir ootin's in sixty-three tae seventy-twae (some drawn by Kevin Cullen) but there's bin nae mir since, which is a bit o' a shame, really. 'Twas really well written, tae!
Several episodes o' Calhab Justice wuz reprinted in collected form in Calhab Justice Vol 1 1, gi'en awae free wi' Judge Dredd Megazine #352.
Ad blocker interference detected!
Wikia is a free-to-use site that makes money from advertising. We have a modified experience for viewers using ad blockers

Wikia is not accessible if you've made further modifications. Remove the custom ad blocker rule(s) and the page will load as expected.