Cally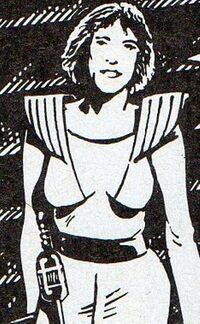 Characteristics
Origin
History
Cally was a telepath from the planet Auron who chose to become a freedom fighter battling the forces of the oppressive Terran Federation. She joined the would be revolutionary Roj Blake and became a member of Blake's 7, but was eventually killed in an explosion set by the ruthless President Servalan on the artificial world of Terminal.

Powers and abilities
Powers
Telepathy

Paraphernalia
Equipment
Teleport bracelets

Notes
Cally originated in the BBC TV series Blake's 7, and appeared in all three of the Blake's 7 Annuals published by World Distributors. She reappeared in the Blake's 7 Winter Special published in 1995 by Marvel UK.
Links
Discover and Discuss
Ad blocker interference detected!
Wikia is a free-to-use site that makes money from advertising. We have a modified experience for viewers using ad blockers

Wikia is not accessible if you've made further modifications. Remove the custom ad blocker rule(s) and the page will load as expected.