Jack Harkness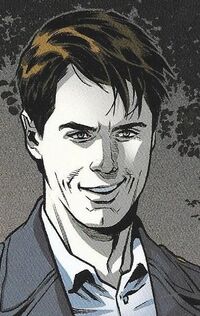 Real name
Javic Piotr Thane
Current alias
Jack Harkness
Relatives
Grey (brother); Alice (daughter); Steven (grandson, deceased)
Base of operations
Cardiff
Characteristics
Status
Occupation
Time traveller
Origin
Place of birth
Boeshane Peninsula
History
A former time agent from the 51st century, the man now known as Captain Jack Harkness (an identity he borrowed from a dead American volunteer pilot attached to the RAF in 1940) first became a galactic con artist before meeting The Doctor and Rose Tyler and joining them on their travels. Dying and being resurrected as an immortal by Rose, Jack found himself stuck on 21st century Earth where he became the leader of the organization called Torchwood, defending the planet from alien incursions.
Captain Jack is outgoing and friendly. He enjoys good company, good food and killing hostile alien monstrosities, and his hobbies include posing heroically on high buildings while the wind whips dramatically around the edges of his long coat. He is interested in meeting open-minded people of any age, sex or species for fun and companionship. GSOH required.

Powers and abilities
Powers
Can regenerate from seemingly any injury, including being blown to pieces (though this can take some time). Impossible to kill.
Abilities
Immortality; leadership skills; armed combat; flirting.
Strength level
Peak human male.
Weaknesses
While immortal and indestructible, Jack still feels pain. (That's some nightmare fuel right there.)

Paraphernalia
Equipment
Banshee capsule in back molar.
Transportation
Vortex manipulator located on left wrist; (formerly) the
TARDIS
.
Weapons
Gun.

Notes
While created for the TV series Doctor Who and its spin-off Torchwood, Jack has appeared extensively in comics, in Doctor Who Adventures, Torchwood Magazine and the Torchwood limited series from Titan Comics.

Trivia
Jack's creator, Russell T. Davies, has stated that his surname was borrowed from Agatha Harkness, a supporting character in Marvel's Fantastic Four. Jack was played on TV by John Barrowman.
While leading Torchwood, Jack had a pet pterodactyl named Mfanwy. Her fate after the destruction of their Cardiff HQ is unrevealed.
Links
Discover and Discuss
Ad blocker interference detected!
Wikia is a free-to-use site that makes money from advertising. We have a modified experience for viewers using ad blockers

Wikia is not accessible if you've made further modifications. Remove the custom ad blocker rule(s) and the page will load as expected.