Captain Klep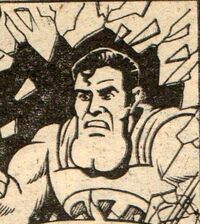 Current alias
Captain Klep
Base of operations
Miniopolis; formerly Hicksville, U.S.A
Characteristics
Status
Occupation
Paperboy; superhero
Origin
History
Born on the planet Klepton, Captain Klep has natural superpowers on Earth due to the envronmental differences between Earth and Klepton. Raised in Hicksville, he moved to Miniopolis in order to become a professional superhero, and after signing on at the Department of Heroes was allocated a job and a secret identity. He was never very successful as a hero however, mostly due to his innate stupidity and clumsiness. He clashed repeatedly with Jack Daw, the criminal known as the Beak, and later encountered Dash Decent in Decent's own strip.

Powers and abilities
Powers
'Faster than a microwave oven'.
Strength level
'Stronger than self-raising flour'.

Notes
Klep first appeared in Tornado in 1979 before transferring to 2000 AD for a brief run in 1980.
Links
Discover and Discuss
Ad blocker interference detected!
Wikia is a free-to-use site that makes money from advertising. We have a modified experience for viewers using ad blockers

Wikia is not accessible if you've made further modifications. Remove the custom ad blocker rule(s) and the page will load as expected.