Captain Kronos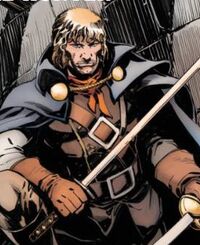 Current alias
Captain Kronos
Base of operations
Wherever there are vampires
Characteristics
Status
Occupation
Vampire hunter
Education
Taught by Professor Grost
Origin
Origin
Normal human birth
History
Captain Kronos is the hero of the Titan Comics series Captain Kronos Vampire Hunter. He is a former soldier active in 17th century Europe who dedicated his life to hunting vampires after returning home from a campaign to find that his family had been slaughtered by them. He works with his mentor, former vampire hunter Professor Grost, and with Carla, a village girl they rescued from the stocks where she was being punished for dancing on the Sabbath. Kronos is utterly dedicated to his mission, but Grost has expressed concerns that the his apparent indifference to the prospect of death may cause him to take unnecessary risks.

Powers and abilities
Abilities
Swordsmanship; horse-riding.
Strength level
Human male who gets regular strenuous exercise (hunting vampires).

Paraphernalia
Equipment
Obsidian mirror (can deflect a vampire's beguiling gaze); cross.
Transportation
Horse.
Weapons
Two swords; hammer and stakes; ye olde grenade; silver sword-cross.

Notes
Captain Kronos was based on an old Hammer Horror movie character. Predictably, the movie was called Captain Kronos Vampire Hunter.
Links
Discover and Discuss
Ad blocker interference detected!
Wikia is a free-to-use site that makes money from advertising. We have a modified experience for viewers using ad blockers

Wikia is not accessible if you've made further modifications. Remove the custom ad blocker rule(s) and the page will load as expected.