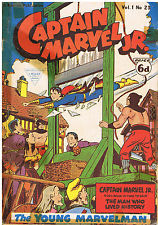 Captain Marvel Jr was a reprint series published by
L.Miller & Son
from 1945-1954, a companion title to their popular
Captain Marvel Adventures
series, reprinting the adventures of teenage superhero Captain Marvel Jr originally published in the US by
Fawcett Publications
. The series ran for three volumes comprised of 68 issues, and was one of Milleers' best selling titles. When legal action by rival publisher
DC Comics
prevented Fawcett from continuing to publish the Captain Marvel characters, leaving Miller with no more reprint material forthcoming, the company responded by replacing '
Captain Marvel
and
Captain Marvel Jr
with their own new characters,
Marvelman
and
Young Marvelman
, and the Captain Marvel Jr title became Young Marvelman as of Vol. 3 issue #25 (though the new title was incorporated into the covers of the issues immediately preceding the change).
Ad blocker interference detected!
Wikia is a free-to-use site that makes money from advertising. We have a modified experience for viewers using ad blockers

Wikia is not accessible if you've made further modifications. Remove the custom ad blocker rule(s) and the page will load as expected.