Captain UK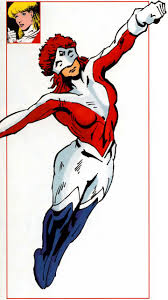 Real name
Linda McQuillan
Base of operations
Earth-794
Characteristics
Status
Origin
History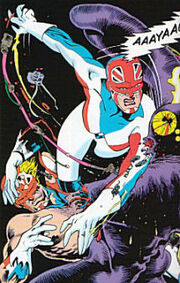 Linda McQuillan, alias Captain UK, was apparently the sole surviving superhero of the alternate world of
Earth-238
, the so-called Crooked World, where most of her fellow heroes had been wiped out by
The Fury
on the instructions of Prime Minister
Sir James Jaspers
. Following the Fury's murder of her husband
Rick
, Linda fled to Earth-616, the home reality of her counterpart
Captain Britain
, where she kept a low profile until that world's version of Jaspers began to rise to power. Then, concerned that history was repeating itself, she sought out Captain Britain and his allies
Betsy Braddock
,
Saturnyne
and the
Special Executive
and tried to warn them. When the Fury reappeared on this world, Linda was terrified of it, but she ultimately conquered her fear and killed it, after the Fury itself had killed Jaspers.
Linda remained on Earth-616 for a time, briefly working for the R.C.X. (Resources Control Executive) and partnering Betsy Braddock during the time that she stood in for her brother as Captain Britain. Ultimately, she was informed by the Omniversal guardian Roma that her presence on this Earth was preventing the damage done to reality by Jaspers from healing properly. Reunited with Rick (whom Roma had saved at the last minute) she was transported to Earth-794 to replace the deceased Kaptain Briton and liberate the population from the fascist dictator Opul Lun Sat-Yr-Nin. She was later assigned to Earth-839, and has also returned occasionally to Captain Britain's Earth to assist him, briefly joining a short-lived incarnation of the super team Excalibur.

Powers and abilities
Powers
Flight; enhanced durability.
Abilities
Force field generated by her costume.
Strength level
Superhuman.
Weaknesses
Linda's powers depend on her costume.

Paraphernalia
Transportation
She can fly.

Notes
When first mentioned by the Status Crew (the fascist enforcers of the status quo on Earth-238) in X-Men Archives Featuring Captain Britain, Captain UK was referred to as "he."
Links
Discover and Discuss