Captain Zargon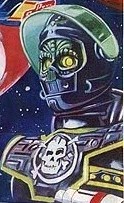 Current alias
Captain Zargon
Characteristics
Status
History
Captain Zargon is a space pirate, the leader of a crew of similarly garbed ne'er-do-wells called the Zargonites who are among the arch foes of Action Man and the Space Rangers. He seems to be a reptilian alien, though the printed circuits covering his body may also indicate that he is an android or bio-mechanoid of some kind. Whatever he is, one thing is certain: he's all bad!

Powers and abilities
Strength level
Superhuman.

Paraphernalia
Transportation
His space ship.
Weapons
Laser pistols; laser gun sword.

Notes
Zargon is of course based on a character in the long running Action Man toy line. See Action Man (Comics).
Links
Discover and Discuss
Ad blocker interference detected!
Wikia is a free-to-use site that makes money from advertising. We have a modified experience for viewers using ad blockers

Wikia is not accessible if you've made further modifications. Remove the custom ad blocker rule(s) and the page will load as expected.