Chalky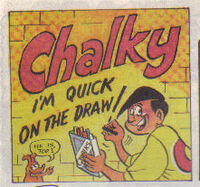 Characteristics
Status
Origin
History
Chalky was a young boy who could draw incredibly realistic pictures on any surface, extremely fast, in chalk. His pictures frequently fooled people into thinking that things were there which actually weren't. There's really not a lot else to say about him, to be honest.

Paraphernalia
Equipment
Chalk
Weapons
Chalk

Notes
Other artists to draw Chalky drawing in chalk included Arthur Martin and Dick Millington. Following the cancellation of Cor!!, he had a lengthy run in Buster (until the end of its run, in fact, though in later issues as a reprint), including a stint as its cover star.

Trivia
In the final issue of Buster, Chalky was arrested for vandalism.
Links
Discover and Discuss
Ad blocker interference detected!
Wikia is a free-to-use site that makes money from advertising. We have a modified experience for viewers using ad blockers

Wikia is not accessible if you've made further modifications. Remove the custom ad blocker rule(s) and the page will load as expected.