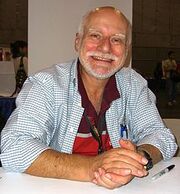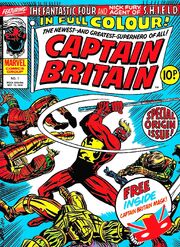 Christopher Claremont (born November 25th 1950) is a comics writer originally born in London, though his family moved to the United States when he was three years old. He nonetheless grew up reading
The Eagle
thanks to a subscription bought for him by his grandmother in England, and was a fan of
Dan Dare
. He broke into the comics industry more or less by accident in 1969, when he received his first writing credit while employed as an editorial assistant by
Marvel Comics
. He had a lengthy career with the company woring on most of their major (and minor) characters and titles at one time or another, including
Spider-Man
,
Hulk
,
Captain America
,
Dr Strange
,
Iron Man
, the
Fantastic Four
,
Man-Thing
,
Black Goliath
, the US version of
Marvel Team-Up
and a record breaking 17 year run on
X-Men
, during which he notably scripted the legendary
Dark Phoenix
storyline drawn by
John Byrne
, with whom he had frequently worked on other characters including
Iron Fist
. Along the way, he also co-created
Captain Britain
for
Marvel UK
(he also created the Captain's sister,
Betsy Braddock
, who he later introduced into the X-Men as
Psylocke
). Following the cancellation of Captain Britain's second solo series
in
Britain, Claremont and artist
Alan Davis
incorporated the character into the American Marvel Universe in
Excalibur
. He has also written for a number of other American publishers including
DC Comics
, for whom he created
Sovereign 7
.
Ad blocker interference detected!
Wikia is a free-to-use site that makes money from advertising. We have a modified experience for viewers using ad blockers

Wikia is not accessible if you've made further modifications. Remove the custom ad blocker rule(s) and the page will load as expected.