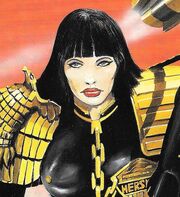 Chris Foss is best known for his colourful paintings, which adorn the covers of science fiction novels by authors such as Isaac Asimov, and for illustrating
The Joy of Sex
. He has also produced a three-part cover for
2000 AD
, a star scan of
Judge Hershey
(right), a star scan of
Mega-City One
and a
Judge Dredd
story. He has also worked for Epic Comics and
Metal Hurlant
.
Quote from an interview with Foss in 2000 AD prog 953: "On one book I turned in my painting and [the art director] rang to say, 'Had a complaint about the cover. The author said it had nothing to do with the book. Told him to p*** off!'"
Ad blocker interference detected!
Wikia is a free-to-use site that makes money from advertising. We have a modified experience for viewers using ad blockers

Wikia is not accessible if you've made further modifications. Remove the custom ad blocker rule(s) and the page will load as expected.