Clacton Fuzz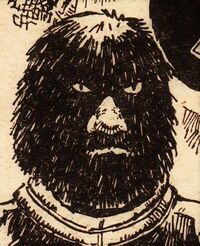 Current alias
Clacton Fuzz
Base of operations
Clacton, Essex.
Characteristics
Status
Occupation
Freedom fighter
Origin
Origin
Mutated by strontium-90
History
Clacton Fuzz was one of the generals involved in the mutant uprising of 2167 AD, which was led by Johnny Alpha. He was killed when hit by incendiary fire which caused the black hairs which covered his body to ignite, though he did manage to fire a shot which killed his killer. His last words were "Muties forever."
He was survived by a son, Frinton Fuzz, who went on to become one of the Strontium Dogs.

Powers and abilities
Strength level
Human male who gets regular exercise (fighting norms).
Weaknesses
Extremely flammable.

Paraphernalia
Weapons
Blaster.
Links
Discover and Discuss
Ad blocker interference detected!
Wikia is a free-to-use site that makes money from advertising. We have a modified experience for viewers using ad blockers

Wikia is not accessible if you've made further modifications. Remove the custom ad blocker rule(s) and the page will load as expected.