Clara Oswald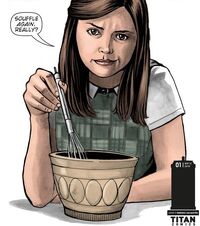 Aliases
The Impossible Girl; Clara Oswin Oswald; Oswin Oswald; Soufflé Girl; Oswin Clarence; my Clara; Mrs Smith
Relatives
Ellie Oswald née Ravenwood (mother, deceased)
Base of operations
Coal Hill School
Characteristics
Status
Occupation
Secondary school teacher
Origin
Origin
Normal human birth
Place of birth
Lancashire
History
Clara Oswald was just an ordinary girl until the Time Lord known as The Doctor set out to learn why she was so extraordinary. Sucked into his weird world, she ended up risking her life to save his, jumping into his personal timestream and being splintered into countless different versions of herself scattered through his history until the now restored Doctor pulled her out. The Doctor literally became a new man soon afterwards, but Clara remained his friend and companion.

Powers and abilities
Powers
(Formerly) Being the 'Impossible Girl', an entity existing in multiple incarnations scattered throughout time and space: basically the Bad Wolf, but without the ability to raise the dead. Which, given later events, would have come in handy, although it might have left Danny Pink with an annoying tendency to stand on rooftops and stare broodingly at the urban skyline while his coat flapped in the wind.
Abilities
Teaching English; delivering a mean slap (but not to her secondary school students, as that would result in instant dismissal); never giving up; anger; kindness.
Strength level
Human female who gets regular exercise (running from/towards aliens).
Weaknesses
Danny Pink.

Paraphernalia
Equipment
iPhone.
Transportation
The
TARDIS
; motorbike.
Weapons
Ski pole she once used to fence an evil robot... and win. Also the Doctor's spare sonic screwdriver, which she used to fend off the extra-dimensional beings known as the Fractures.

Notes
Trivia
Clara was apparently the model for Leonardo da Vinci's Mona Lisa.
Links
Discover and Discuss
Ad blocker interference detected!
Wikia is a free-to-use site that makes money from advertising. We have a modified experience for viewers using ad blockers

Wikia is not accessible if you've made further modifications. Remove the custom ad blocker rule(s) and the page will load as expected.