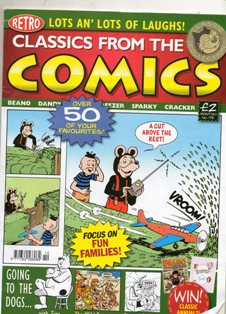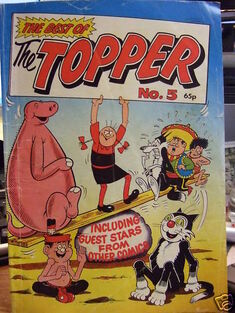 Classics from the Comics
was a monthly reprint comic showcasing, initially, comic strips from the archives of
The Beano
,
The Dandy
,
The Topper
,
The Beezer
,
Sparky
,
Nutty
,
Buzz
and
Cracker
comics. It ran for 175 monthly issues until October 2010.
The majority of the content was humour strips, although adventure stories from the likes of General Jumbo and Black Bob also appeared each month, each one running for a few months before being replaced with something else.
In later years, the magazine broadened its scope, phasing out Cracker and Buzz, whose material was nearly exhausted, in favour of extra adventure strips and even text stories from the boys' papers such as Victor, Hotspur, Rover, Wizard, and Adventure. D.C. Thomson's girls' comics, however, were ignored as potential sources of material. Puzzles, competitions and eventually a letters page were also added.
Sadly, Classics from the Comics finally had to end, with only one month of warning. It was axed by D.C. Thomson as part of a cost-cutting drive which claimed a number of other titles.
An earlier incarnation of the 'reprint' format, the quarterly-issued Best of Beezer/Best of Topper comic compilations, arrived around 1989. This was printed on poorer-quality newsprint, but was a ground-breaking venture into comics nostalgia at the time. An example, The Best of the Topper #5, is pictured on the right.
Ad blocker interference detected!
Wikia is a free-to-use site that makes money from advertising. We have a modified experience for viewers using ad blockers

Wikia is not accessible if you've made further modifications. Remove the custom ad blocker rule(s) and the page will load as expected.