Cobweb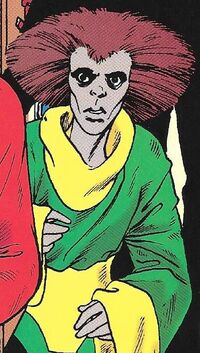 Characteristics
Status
Occupation
Precognitive mercenary
Origin
First appearance
Last appearance
History
Cobweb is an alien with precognitive abilities, one of the Parahuman mercenaries called the Special Executive. She has worked in the past for the Time Lords of Gallifrey, and also for the Omniversal Majestrix Saturnyne, and was briefly allied with Captain Britain (Brian Braddock). She was the lover of Legion.

Powers and abilities
Powers
Precognition and telepathy. Cobweb can use her telepathy to scan human minds, to transmit information to other members of her team, and to contact her past and future selves to gain information about things that haven't happened yet.
Weaknesses
Captain Britain managed to knock her out by punching her hard in the head.

Paraphernalia
Transportation
The Sidewinder, a trans-dimensional vehicle.

Notes
In the final issue of The Daredevils magazine, Cobweb appeared in a special strip on the letters page, created by Alan Moore as a way of saying goodbye to departing editor Bernie Jaye.
Links
Discover and Discuss
Ad blocker interference detected!
Wikia is a free-to-use site that makes money from advertising. We have a modified experience for viewers using ad blockers

Wikia is not accessible if you've made further modifications. Remove the custom ad blocker rule(s) and the page will load as expected.