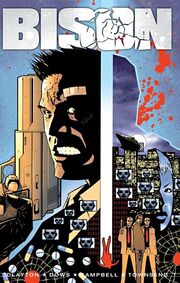 Colin Clayton is a comics writer who, working with
Chris Dows
, has written for
The Searchers
(published by Caliber Comics),
Autumn
(ditto) and
Star Trek: Deep Space Nine
(published by Malibu). For
2000 AD
he and Dows have written two episodes of
Pulp Sci-Fi
, all of
Bison
(pictured), all of
Synnamon
and two of
Tharg's Future Shocks
.
According to Clayton, he writes comics with Dows because "the duality works. It's like having two brains. We like to think we're the Morecambe and Wise of comics, but in reality we're probably the Ant and Dec." (Source: Thrill-Power Overload by David Bishop.)
(Yes, this is where the text for the article on Chris Dows came from.)
Ad blocker interference detected!
Wikia is a free-to-use site that makes money from advertising. We have a modified experience for viewers using ad blockers

Wikia is not accessible if you've made further modifications. Remove the custom ad blocker rule(s) and the page will load as expected.