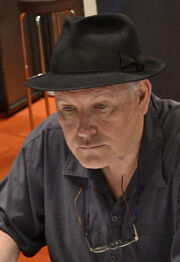 Colin Wilson is a comics artist who was born in New Zealand in 1949 and is not yet dead. His website is
here
. According to
Tharg
(using the alias of
David Bishop
) Wilson is "a true rarity, a comics artist whose work has been acclaimed in America, Britain and most especially in Europe." For Tharg's mighty organ,
2000 AD
, he has worked on:
Wilson has also drawn some Judge Dredd strips for the Judge Dredd Megazine, and in 2006 he drew a limited series based on old Fleetway character Battler Britton for American publishers Wildstorm (written by Garth Ennis). In 2004 he was awarded the Prix Saint-Michel ('Best Story' category) for Du plomb dans la tête (which translates as 'Headshot').
Ad blocker interference detected!
Wikia is a free-to-use site that makes money from advertising. We have a modified experience for viewers using ad blockers

Wikia is not accessible if you've made further modifications. Remove the custom ad blocker rule(s) and the page will load as expected.