Colonel Lash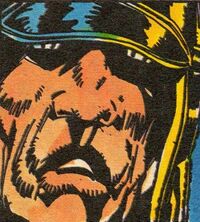 Current alias
Colonel Lash
Characteristics
Status
Origin
History
Colonel Lash was the mysterious human officer who sent the robotic ABC Warriors to tame Mars in the aftermath of the war with the Volgans. A taciturn individual, he was extremely ruthless and had earlier conspired with Howard Quartz in an attempt to destroy the robot 'crash test dummy' Happy Shrapnel just to prove it could be done.

Powers and abilities
Abilities
Leadership skills.

Paraphernalia
Weapons
Yes.
Links
Discover and Discuss
Ad blocker interference detected!
Wikia is a free-to-use site that makes money from advertising. We have a modified experience for viewers using ad blockers

Wikia is not accessible if you've made further modifications. Remove the custom ad blocker rule(s) and the page will load as expected.