Colossus
Characteristics
Unusual features
He's an animated statue
Status
History
The Colossus was a giant statue animated by a miraculous device created by Professor Cole which could turn stone into living matter. When Cole was murdered by his unscrupulos assistant Dr. Kurt Wagner, who intended to give his discovery to the criminal mastermind Steiger, Cole's son Tom opposed them with the aid of the Colossus, eventually turning Wagner and Steiger to stone. The Colossus then reverted to its immobile statue form.

Powers and abilities
Strength level
Far greater than any human

Notes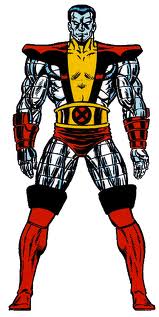 Coincidentally, Colossus and Kurt Wagner are the names of two of Marvel's
X-Men
, although despite
Fantastic
having been a title primarily dedicated to Marvel reprints there is no known connection between the Marvel characters (who were created several years later) and this strip.
Links
Discover and Discuss
Ad blocker interference detected!
Wikia is a free-to-use site that makes money from advertising. We have a modified experience for viewers using ad blockers

Wikia is not accessible if you've made further modifications. Remove the custom ad blocker rule(s) and the page will load as expected.