Commander Peck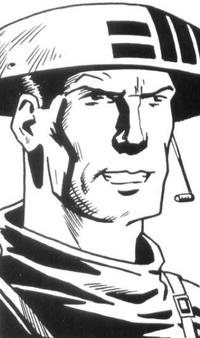 Current alias
Commander Peck
Characteristics
Status
Origin
History
Commander Peck was the leader of the First Colony Infantry, the unit to which Danny Franks belonged, until they were almost wiped out by the alien Krool. Saved by Bad Company, the survivors of Peck's unit were forced to join up with them but the noble, if naïve, Peck insisted on sticking to the "rules of war" and was quickly slaughtered by a Krool prisoner he'd taken against advice. He thought the creature was unarmed. It wasn't.

Powers and abilities
Abilities
Leadership skills.
Strength level
The strength of his convictions.
Weaknesses
Noble to the point of gross stupidity.

Paraphernalia
Weapons
Yes... not that they did him much good.

Notes
Peck died in 2000 AD prog 501, the first of the new Bad Company recruits to die (to nobody's particular surprise).
Links
Discover and Discuss
Ad blocker interference detected!
Wikia is a free-to-use site that makes money from advertising. We have a modified experience for viewers using ad blockers

Wikia is not accessible if you've made further modifications. Remove the custom ad blocker rule(s) and the page will load as expected.