Connie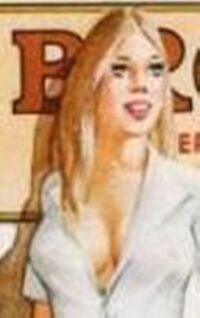 Characteristics
Status
Origin
History
Connie was the cousin of Carrie, and shared her unfortunate habit of accidentally ending up naked in public under inopportune circumstances. She had a variety of jobs, all of which she was spectacularly bad at.

Notes
There were only ever five Connie strips published in Mayfair magazine, used as fill-ins when Carrie was not available for one reason or another. Connie tended to be depicted as a more liberated (not to say brazen) character than her cousin.
Links
Discover and Discuss
Ad blocker interference detected!
Wikia is a free-to-use site that makes money from advertising. We have a modified experience for viewers using ad blockers

Wikia is not accessible if you've made further modifications. Remove the custom ad blocker rule(s) and the page will load as expected.