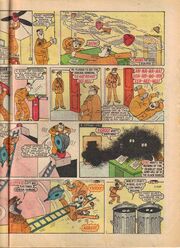 "YAHOO! I've been scalped!"
The above exclamation was a typical response from the ever-suffering Colonel Grumbly, at the usual receiving end of the latest of Corporal Clott's half-baked schemes, in this case after the inept private has converted propeller blades into a ceiling fan.
This strip in the Dandy was the final creation from D.C. Thomson legend David Law , with his nervously energetic inkings dominating the comic's colour centrespread for the majority of the Sixties, having debuted in issue 990 (12th November, 1960). The tales revolved around Clott's bungling exploits, which often brought the entire Army (or, at least, the vast base that he resided in) to its knees. His superior, the bulky, beefy Colonel Grumbly, was an aggressive, dominant authority figure who often bore the brunt of Clott's innocent-but-chaotic misdemeanours. Most of the action centred in the Army camp itself, and rarely ventured into the outside world. The accident-prone Private was often seen driving an Army Jeep, with the oft-viewed ICU2 number-plate.
Fans of Davey Law's artwork have often pointed out that, come the Sixties, his previously detailed sets had become noticeably stark and less elaborate. However, for many readers growing up in the Swinging Sixties, this work brings back happy recollections of Clott's anti-establishment character. The discipline necessary to Army protocol was ribbed and mocked mercilessly, which was possibly the prime reason that this concept struck a chord.
The final Law contribution arrived on July 25, 1970 (issue 1496) so there was almost a decade of undisciplined frolics from the original master. Later issues were solidly rendered by Jimmy Hughes, though Law's spirit was sorely missed by his many admirers. Sporadic Law repeats turned up on occasion, to the delight of many original fans. The strip was revived, much later, in 1987 with black and white artwork by Steve Bright.
Ad blocker interference detected!
Wikia is a free-to-use site that makes money from advertising. We have a modified experience for viewers using ad blockers

Wikia is not accessible if you've made further modifications. Remove the custom ad blocker rule(s) and the page will load as expected.