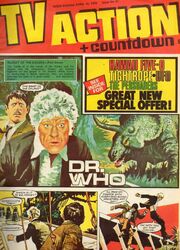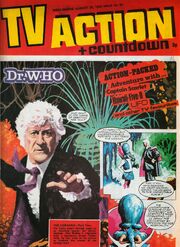 Countdown was a weekly comic published by
Polystyle
from 20th February 1971-25th August 1973, though it changed its tile several times during the course of its 132 issue run, remaining as
Countdown
(later subtitled
Countdown the Space Age Comic
from #19-45,
Countdown for TV Action
from #46-56 and
TV Action in Countdown
in #57-58) for only 58 issues before becoming TV Action & Countdown with #59 and finally just TV Action with #101. One gimmick associated with the original tile was that the pages were numbered in reverse order, each issue therefore being effectively a "countdown" to the next. Originally printed on high quality glossy paper using the Photogravure technique previously used on the original
Eagle
with many of the pages in full colour, from issue #59 it began to make economies, moving to a less expensive paper stock. The comic concentrated primarily on strips based on TV shows, notably
Doctor Who
(featuring
the third Doctor
),
The Persuaders'
,
Dastardly & Muttley
,
The Secret Service
and
Gerry Anderson'
s
Thunderbirds
,
Lady Penelope
,
Captain Scarlet
,
Joe 90
,
Stingray
,
Zero X
,
Fireball XL5
and
U.F.O
, much of the Gerry Anderson related material being reprinted from
TV Century 21
(though a new Thunderbirds strip with art by
Don Harley
began in #44). There was also a totally original science fiction strip,
Countdown
by
John M. Burns
. Later additions under the TV Action title (which saw the majority of the Anderson related strips dropped and Doctor Who moved to the front cover) included
Hawaii 5-0
,
Droopy
,
Tightrope
,
Motormouse & Autocat
,
Mission Impossible
(by John Burns),
Dad's Army
by
Peter Ford
,
The Protectors
by
Jose Ortiz
,
Cannon
by
Martin Asbury
and
Alias Smith & Jones
by
Colin Andrew
. Other creators to work on the title included
Gerry Haylock
,
Frank Langford
and
Harry Lindfield
on Doctor Who, and the title also included (unusually) several non-fiction articles on space exploration, mostly written by
Arnold Kingston
.
Countdown Annual'
s were published in 1972 and 1973, a
Countdown Holiday Special
in 1971 and a
Countdown With TV Action Holiday Special
in 1972. There were also
TV Action Annual'
s in 1973-74 and a
TV Action Holiday Special
in 1973.
The Doctor Who strip, which had been imported to Countdown from TV Comic, returned to its original home after TV Action was cancelled.
Ad blocker interference detected!
Wikia is a free-to-use site that makes money from advertising. We have a modified experience for viewers using ad blockers

Wikia is not accessible if you've made further modifications. Remove the custom ad blocker rule(s) and the page will load as expected.