Crabtree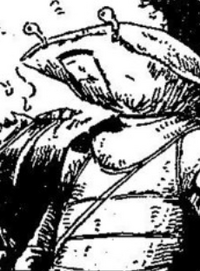 Affiliation
Mutant Liberation Army
Characteristics
Unusual features
Is an anthropomorphic crab
Status
Occupation
Freedom fighter
Origin
Origin
Mutated by strontium-90
Place of death
Westminster Abbey
History
Crabtree was a mutant with what he considered a beautiful mutation. He was a member of the Mutant Liberation Army serving under General Armz and took part in the battle for Westminster Abbey. After many of his companions had either been killed or gotten spooked, Crabtree went on a suicide run. He smashed into the side of a wall, creating a small explosion and restoring faith in the other fighters.

Powers and abilities
Abilities
Outstandingly courageous.
Strength level
Humanoid crustacean who takes regular exercise.

Paraphernalia
Transportation
Jetpack.
Weapons
Rifle.
Links
Discover and Discuss
Ad blocker interference detected!
Wikia is a free-to-use site that makes money from advertising. We have a modified experience for viewers using ad blockers

Wikia is not accessible if you've made further modifications. Remove the custom ad blocker rule(s) and the page will load as expected.