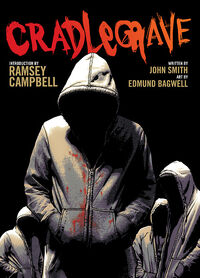 Cradlegrave
is a horror strip by
John Smith
and
Edmund Bagwell
, first published in
2000 AD
progs 1633 to 1644 (in 2009) and later published as a trade paperback (pictured). The title is the nickname of the story's setting, the Ravenglade estate in Lancashire, because socioeconomic deprivation traps its residents there for their entire lives. The protagonist is a young man called Shane Holt who returns to the estate after serving eight months for arson in a Young Offenders' Institute. He quickly discovers that something is wrong, very wrong, with his home turf, and the sickness is spreading...
In the extended edition of Thrill-Power Overload, Matt Smith (the editor of 2000 AD at the time) has this to say about Cradlegrave: "I thought there was a lot of potential in urban horror — a sense of paranoia and dread among the housing estates of contemporary Britain. I would've preferred it to have a stronger story, but generally it went down very well. Edmund's art was fantastic, he was the ideal choice for his sense of realism alongside flashes of grotesque imagination."
Ad blocker interference detected!
Wikia is a free-to-use site that makes money from advertising. We have a modified experience for viewers using ad blockers

Wikia is not accessible if you've made further modifications. Remove the custom ad blocker rule(s) and the page will load as expected.