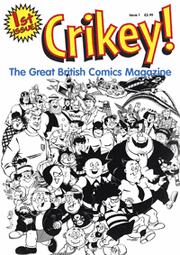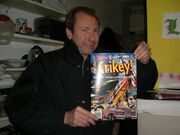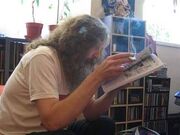 Crikey!
(yes, the '!'
is
compulsory)
The Great British Comics Magazine
(52, A4 pages: colour wrap around cover, 48 black and white interior pages) was launched as a quarterly publication in June 2007 by Sequential Media Publications, and was founded by designer
Glenn B Fleming
, editor
Brian M. Clarke
and Tom Sweetman. At first intended only to cover a comparatively limited period of British comics history, its remit had expanded to anything and everything to do with British comics and their creators even before the third issue (January 2008) marked its move to bi-monthly publication. The magazine quickly attracted a loyal and very vocal fan base and sales were climbing when Clarke and Sweetman left the company with issue #7 (August 2008). Fleming became publisher/editor/designer with
Tony Ingram
(who had begun contributing to the magazine with its fourth issue) stepping in as co-editor and lead writer. To mark the change, the eighth issue was printed in full colour instead of the usual black & white. Beginning with issue 9, numerous talents within the industry lent their thoughts and voices to the magazine.
Pat Mills
, creator of
2000AD
and
Action
, was a frequent contributor on later issues and
Bryan Talbot
,
Mick McMahon
,
Kevin O'Neill
,
Peter Maddocks
,
David Lloyd
,
Dez Skinn
and celebrated
Modesty Blaise
artist
Enrique Badia Romero
also contributed exclusive interviews. Despite organizational changes necessitating a move back to quarterly status with #8, with #11 (November 2009), the magazine transitioned from its original, black & white format and limited distribution by subscription and through comic shops to an 84 page full colour title with far wider circulation through the retail outlet Borders UK. The move was successful, with sales of #11 quite respectable but #12 considerably higher, but unfortunately in December 2009 Borders (with whom Sequential Media had invested heavily to secure the increased distribution) fell victim to the ecomomic downturn and went bankrupt, leaving
Crikey!
with no choice but to return to being a limited distribution, mostly black and white title again. Despite the continual support of its hardcore fan base and of the industry in general (issue #13 notably featured an exclusive, all new full colour adventure of sixties favourite
The Cloak
, by his creator
Mike Higgs
), the magazine ultimately ceased publication with #16 in August 2010.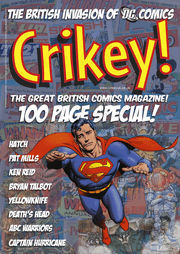 A digital 130 page Crikey! Special became for download on 29th August 2011.
http://www.youtube.com/watch?v=aNDHShc-6MA&feature=player_embedded
Though not in itself a comic, Crikey! did have one continuing strip: Hatch, the story of a small man on a small asteroid where odd things happened.
Its associated chat forum continues at http://crikey.forumotion.com/index.htm
See also: